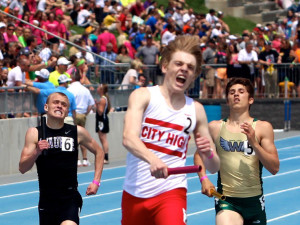 On Thursday, the boys 4X800M relay team finished first at the state meet in Des Moines. They finished with a time of 7:48.02, breaking a 12 year old school record. The team is made up of Ryan Dorman '14, Mohammed Traore '13, Rasheem Shivers '14 and Brook Price '13.
"We knew that we could do it," Dorman said. "We just all had to run well on the same day, and today was that day."
This is a huge comeback for The Little Hawks, after taking 3rd place at The Drake Relays, losing to Iowa City West.
"We were disappointed at Drake," Shivers said. "But we got it done today, and that's all that matters."
Price, who anchored the relay, finished 3rd in the 3200M just one hour before the 4X800M race.
"I could not have done it with out those guys," Price said. "I needed every inch of the lead they gave me. I did it for them."
The 2013 State Co-Ed Track and Field meet will go through this Saturday.
Stay tuned to www.thelittlehawk.com for updated coverage.