Online Voting for 2013 Homecoming Court Has Begun
VOTE FOR HOMECOMING COURT BY CLICKING HERE
Voting for homecoming king and queen is now happening online at www.tallyspace.com.  Seniors only should go to this link https://www.tallyspace.com/vote/select_account and search for Iowa City High School to vote.  After finding City High's link seniors will enter their first and last name and birthday to vote.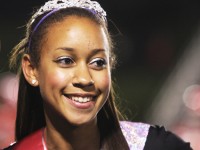 Students having trouble voting should see Mr. Morris in the library.
Voting is open 24 hours a day through Friday, September 6th at midnight.  After voting ends the homecoming field for voting will be narrowed to 14 females and 14 male candidates.
After the field has been narrowed, seniors will vote on TallySpace again for the Homecoming Court of 7 females and 7 males.  Once the final 14 are chosen the rest of the student body will vote on TallySpace for the king and the queen.