A Night at the Jazz Showcase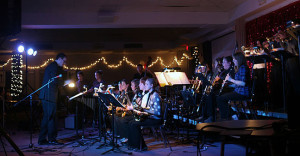 A dim room, illumined by the warm glow of Christmas lights. Blue curtains framed with metallic pink tinsel draped on the stage. Red and white balloons lining the walls in true City High spirit, and mirrors fringed with silver tinsel. A Night at the Jazz Showcase.
City High's cafeteria was truly unrecognizable, as Bill Hemingway, one speaker, described with his statement that, "it's hard to believe this is a cafeteria." The mood, too, was considerably different than its usual lunchtime fervor, on Saturday, February 12 when both City High and South East's jazz bands added some atmosphere to the already well-decorated room.
The show included performances by the Southeast 7th Grade Jazz Band and the Southeast 8th Grade Jazz Band, both directed by Bill Pringle; City High's Jazz Band II, Jazz Band I, and Jazz Ensemble, all directed by Ryan Arp; and finally the City High Jazz Combo, a group of self-motivated students studying at the University of Iowa who have learned their music independently.
The Showcase was preformed twice Saturday evening, once at 5:30 and again at 8:00, but while much of the same music was performed both times, each performance also was distinctive. The 5:30 showing, for instance, was the only one to hear the Southeast Jazz Bands, while the 8:00 showing was the only one to experience the piano accompaniment of guest performer Bob Washut, Professor of Music at the University of Northern Iowa.
The showcase included many solos, one of which was Mackenzie Mead's popular rendition of Orange Colored Sky, which was performed to resounding applause from the audience. "I don't get nervous when I'm playing trombone," Mead '11 said. "but I do get nervous when I have to sing." Mead has performed this song in multiple settings now, and each time it has been received with enthusiasm. "I just really enjoy it and have fun with it," Mead said. "'cause it's a really awesome song."
Ryan Arp, who directed all of City High's non-student directed jazz bands, was not the director when this event began. This was, in fact, his first time directing the annual event. When asked about his thoughts following the show, Arp responded, beaming from ear to ear. "I'm going to say it was somewhere between amazing and spectacular."