National Honor Society Induction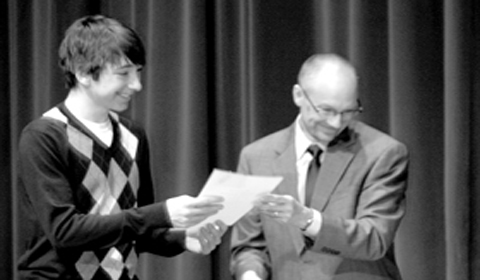 By Felix Mulligan
02.05.10
The National Honor Society is a national organization for students who have a high GPA, and demonstrate leadership.
The City High National Honor Society was chartered and inducted its first members in the spring of 1958.  The primary goals were to create and encourage enthusiasm for learning and to recognize excellence in academics.
The average number of new members a year is about 115 students.
"City High annually inducts from 105-120 students into the City High National Honor Society," said Linda Hoel, the National Honor Society Adviser.
The students have to show good leadership and service traits like volunteer work.
"We look for a 3.5 cumulative GPA of 3.5 or higher in juniors and seniors who didn't meet this their junior year.  Some other criteria are service, leadership, character, and citizenship," Hoel said.
Benefits of National Honor Society membership are recognition and honor.
"It is a very positive statement on a senior résumé, college or scholarship application," Hoel said.
"Students are expected to maintain a 3.5 cumulative GPA and if they drop below that, technically they are not eligible for continuing membership," Hoel said.
This honor is beneficial to students because it helps them in scholarship applications and looks good on job applications whether it be job applications or college applications.
"Students don't specifically earn scholarships from being an NHS member; however, NHS membership on an application is a strong endorsement for scholarship consideration," Hoel said.