Volleyball Ranked No. 1 in State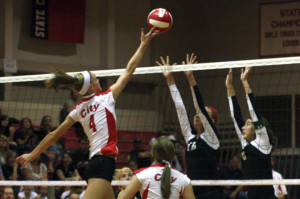 By Annika Wasson
This week, volleyball moved into the No. 1 ranking in the state.
"It's a motivation for us to continue to work as hard as we can. It's nice to feel respected, but its a reminder that we need to bring our best game every night," assistant coach Tricia Carty said.
The Little Hawks continued their winning streak beating Linn-Mar 3-0, Tuesday night at City High. City won 25-12, 25-10, 25-13.
Rachel Rinehart '13 led the team with 13 kills. Aliyah Gustafson '13 had seven kills and Liz Hubing '13 and Abby Saehler '13 added six kills each. Erin Muir '12 had 32 assists, Laura Shepherd '12 had 18 digs, and Michaela Nelson '14 had seven digs.
Head Coach, Craig Pitcher, says his team did what they needed to do to win the game.
"I think we served well. We served to all the right people," Pitcher said.
"We had good serving with passing so we were able to run our offense," Nelson agrees.
Pitcher and Nelson also say that having fans at the game helped the team pull out the victory.
"Students bring up the intensity quite a bit and the help us stay more focused," Nelson said.
Pitcher agrees and encourages more students to come out and "see an exciting game."
"Our players really respond to a vocal student section," Pitcher said.
The Little Hawks are now 6-0 for the season and 2-0 in the MVC. They play in the North Scott tournament in Eldridge on Saturday, September 10, and take on Waterloo West in Waterloo next Tuesday.