Large Group Speech takes it to the stage
Large Group Speech is coming home. Well, metaphorically at least. The annual home show performance for City High's Large Group Speech team is to be tonight, Friday January 27th, at 7:00 pm in Optsad Auditorium.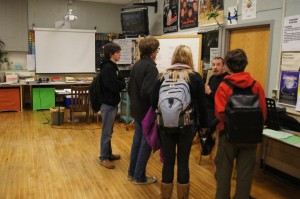 "It's a really diverse group of actors, a lot of people are new," Alexandra Perez '13 said. Perez has been a part of the LGS team since her freshman year; this year she plays Queen Gertrude in  15 minute Hamlet. "It's just really silly, and it's always hard not to laugh. It's a lot of work, a lot of time, but it's all worth it!"
The performance is slated to include a "little bit of everything and a little something for everybody." The program features group improv, a one act play, ensemble acting, solo mime, choral reading, and musical theatre, several of which advanced to the state LGS competition following their performances at the district LGS competition in Keota, Iowa last Saturday. Tonight the LGS team takes their home stage, and, according to many, won't be a show to miss.
"There's some seriously amazing talent (in LGS,)" Patrick DuLaney, the director of several LGS groups at City, said. "Come one, come all!"