Boys Tennis Prepares for Districts and State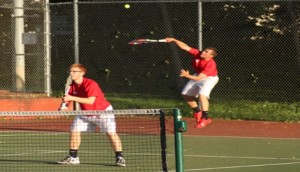 By Tucker Tholen
Sports Editor
CLICK HERE FOR PHOTO SLIDE SHOW
Coming down the stretch to the state tournament the boys tennis team faces Cedar Falls before districts on May 13th in Iowa City and then state competition.
Last week the tennis team split two matches against West and Jefferson.
The Little Hawks have a overall record of 7-6 which is a two win improvement from last year already.
"Team unity is outragous this year. We love each other," Tucker Tholen said.
A love and bond that has brought the team more wins under Coach Chip Hardesty's leadership.
The loss last week came against West High with a score of 7-2 on Tuesday with 5 of the 6 singles matches going to super tie-breaker. A super tie-breaker is a ten point third set, which only comes after splitting the first two sets.
"A super tie-breaker is a toss up as ten points is so short. If you make a few mistakes you will lose. It will test your consistency," Tholen said.
Coming out of singles the Little Hawks were down 4-2 with wins by Austin Razavi and Wes Steffen. The Little Hawks eventually dropped all three doubles matches.
On Thursday the Little Hawks reversed their fortune beating the Jefferson J-hawks by a score of 7-2 with wins by Nathaniel Gier, Philip Riley, Austin Razavi, Wes Steffen and Alex Christophersen.
The Little Hawks next meet in Tuesday May 11 against Cedar Falls and districts will be held at the University of Iowa courts near West High.
"We have a few strong players coming in to the district tournament. The rest of the team needs to play very well for the team to reach the state tournament," Tholen said.