Young and quick: Track athletes leap into new season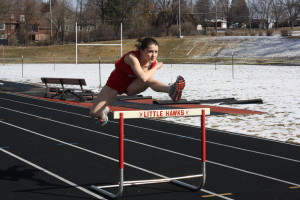 Achieving the 'Standard of Excellence' in both the 400 and 200 in her first high school meet ever, Sarah Plock '15 could be a key runner in winning a back to back state championship.
"It was kind of nerve racking, just being a freshman," Plock said. "I think I did really well, and all the freshmen really stepped it up a lot."
Plock was one of 25 girls to attend the Quad City Indoor meet on February 28th and 29th. The City High girls track team achieved second place behind Rock Island High School of Illinois, but defeated Pleasant Valley, a key opponent this season, by three and a half points. West High will also be a key opponent this season. Although the Women of Troy have beaten City in the past, the Little Hawks are confident that this year's track season will be no different than last year's.
"Everyone has been working really hard," Beth Larsen '13 said. "Usually West High peaks really early, so hopefully we'll peak at the right time, like we always do, and then beat them at state."
The track team is starting the indoor season off strong and plans to continue it's success throughout the outdoor season. But the team is not only focusing on winning, they are also concentrating on team unity.
"My goal is to have people feel connected and be kind to each other," captain Meg Richardson '12 said. "To win state obviously and have everyone improve from top to bottom in every event."
Richardson has been running track since she was a freshman and is planning to continue her running career throughout college. She will be attending Williams College in Massachusetts in the fall and will be running both the cross country, and track. Like many sports, track and field can sometimes put pressure on its athletes.
"I always get nervous, no matter what," Richardson said. "But I try to think about the reason why I'm running. I think about my team, and my family. Everyone else in the world is out there doing their own thing and this is my thing that I need to do."
To cope with all the nerves, many runners have their own traditions to assure themselves.
"I'm really superstitious," Larsen said, "So I always eat the same thing. I have lucky socks, a lucky sports bra, lucky underwear, a lucky watch, lucky hairband, my hair's always the same way. So basically everything stays the same between every single meet."
But through all the nerves and hard workouts, runners say all the hard work is worthwhile and are striving for a consecutive state title.
"Track takes up a lot of time," Larsen said. "But at then end of the season, when you're state champions, then it's all worth it."
About the Writer
Daniela Perret, Feature Editor
Sup everybody. I'm Daniela and I really enjoy trips to Sweets & Treats downtown, I have nine pillow pets and am a pro on crutches. I have a llama ring...