Little Hawks continue to rise to the top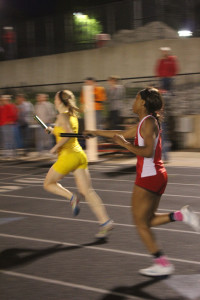 Walking down to the track last Thursday evening, many members of the City High girls' track team's heads were filled with questions. But after setting numerous personal records and season's bests, the girls' track team came out with a win over the women of troy, making this their second year in a row of winning the Forwald/Coleman relays.
"I think they went great," Soumba Traore '14 said. "Everybody really stepped it up and performed really well. And we beat west high, which just means that we're doing really great."
Highlights for the lady Little Hawks included Meg Richardson's win in the 3000 meter run, Claire Crew's second place finish in the open 400 meter dash, Caitlin Ward's second place finish in the 100 meter hurdles, Sarah Plock's win in the 400 meter hurdles, and Aliyah Gustafson's wins in the shot put and discus.
"Going into the meet, there were a lot of questions." Distance and Mid-Distance coach Tom Mittman said. "We were coming up against some of the best competition we'll see all year, and we had several events that we hadn't performed up to our hopes. But in the meet all those question marks were replaced with solid, affirmative answers."
The girl's team won the meet with 155 points, behind was West High with 120 points.
"Up and down the line, girls stepped up and ran their best races of the season when they had the most pressure on them, and that will serve us well in big meets coming up." Mittman said.
The team also qualified 13 of 19 events for this weeks upcoming 2012 Drake Relays.
"I think the team will perform great," Traore said. "I mean so far we have done very well in all of our meets and we're just ready to show the world what we can really do."
Alongside a win for the lady Little Hawks, the boy's team finished second with 123 points to Iowa City West with 175 points.
"We competed well, even with only one day of rest." Brook Price'13 said. "It wrapped up the first part of our season nicely."
Stand-outs for the boy's team included Bryson Runge's third place finish in the 100 meter dash, Ryan Dorman's first place finish in the 400 meter dash, Dan Roemerman's first place finish in the 110 meter hurdles, Mason Greer's second place finish in the 110 meter hurdles, Kody Dailey's second place finish in the Discus and Brook Price's third place finish in the 1600 meter run and second place finish in the 800 meter run. The team qualified a total of 10 events for this weekend's Drake Relays.
About the Writer
Daniela Perret, Feature Editor
Sup everybody. I'm Daniela and I really enjoy trips to Sweets & Treats downtown, I have nine pillow pets and am a pro on crutches. I have a llama ring...