Boy's Swimming State Finals
Hang on for a minute...we're trying to find some more stories you might like.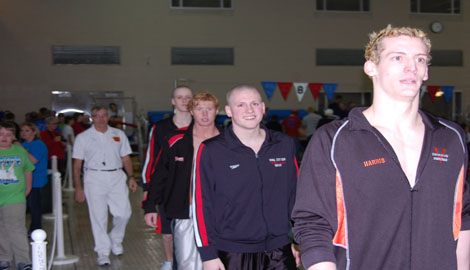 By Margaret Yapp
PHOTO BY: Bryant McAllister
The bleachers of the Marshalltown YMCA are overflown with screaming moms and body-painted girls as the 2010 Iowa high school boy's state swimming qualifiers walk onto the swim deck to start off the swim meet. Among the swimmers are nine City High qualifiers.
Despite City's small number of qualifiers  the team placed ninth at state with 72 points.
Junior Cam Herting earned the state title in the 500 freestyle with a time of 4:35.52 which was more than four seconds faster than second place winner, Garrett Moses. Junior Colin McAllister followed Herting to place fifth in the 500 freestyle.
City's 400 freestyle relay consisting of Cameron Herting, Sid McMillin, James Davis, and Kanoe Russell placed sixth.
"Everyone swam great," said junior Colin McAllister. "I'm really excited about how we all did."