The Little Hawk Guide to Oscars 2013
Hang on for a minute...we're trying to find some more stories you might like.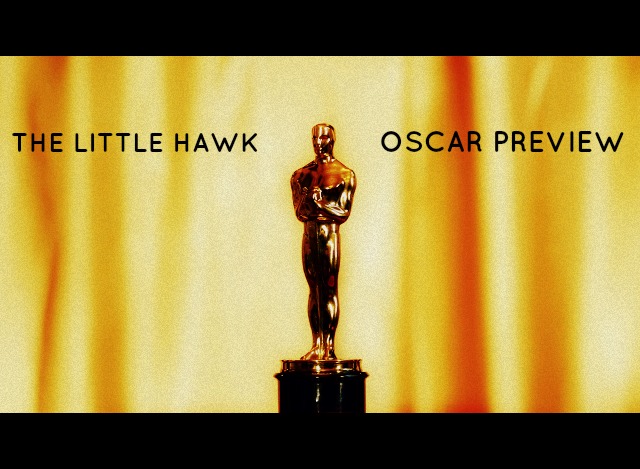 Gabe, Nat and Max are joined by special guest Oli Peters to discuss their picks for Oscars 2013.
[zooeffect AAFA4H7906Tk]
Little Hawk Co-Online Editor Nat Alder lists the 9 nominees for Best Picture, as well as his individual thoughts on each one:
Amour: What's it about? An old couple in France essentially test the boundaries of their relationship when one of them suffers a stroke. The film primarily takes place in one location(the couple's house). Nat's thoughts: This is a very brave movie for the academy to nominate. Not a chance of winning in my book, but the film is still a heartbreaking, seemingly realistic portrayal of a person's last weeks of life. Extremely impactful, which one scene towards the end that may be worth the price of admission, Amour is a beautiful film, if not a little overrated in the face of all it's reviews. Check it out. My Score: 8/10
Argo: What's it about? Set in the 70's, this true story chronicles the adventure of Tony Mendez, a CIA agent who fakes a film production in Iran in order to rescue 6 American Embassy hostages hiding out at the Canadian Ambassadors house. Nat's thoughts: This film is a total crowdpleaser, and for good reason. It's a fantastic film. It's entertaining yet intense, and one of the many historical films nominated this year. Ben Affleck does a solid job here as the actor and director of this film. I believe this one will win the Best Picture Oscar, and I'm fine with that. My Score: 9/10
Beasts of the Southern Wild: What's it about? This film centers around the adventures of Hushpuppy, a 6 year old girl living in a half-flooded Louisiana community known as the Bathtub. Nat's thoughts: This is a totally beautiful film. Everything about it jolts with energy, and even in the films saddest moments, the charm of this lead actress(Quvenzhane Wallis) will make anybody smile. The cinematography is absolutely stellar, the visuals amazing, and what's most impressive is the fact that it's from a first time director. Pretty audacious in my book. My Score: 9/10
Django Unchained: What's it about? A wild, southern fried revenge tale set in the mid 1800's. This flick follows Django, a slave freed by Dr. King Shultz, a bounty hunter. Together they kick ass and take names. Django's ultimate mission is trying to find and free his wife, Broomhilda. Nat's thoughts: It's been too long since Tarantino released his last masterpiece(Inglourious Basterds), and I'm more than satisfied with the result. This film is angrier than any of Tarantino's other films, yet still retains the sense of adventure, bloodshed and hilarity. The film boasts some of the best acting performances of any of the nominees, from Christoph Waltz to Leo DiCaprio and finally, my personal favorite, Samuel L. Jackson. This is definitely the most raucously entertaining film out of the nominees, and probably my favorite. My Score: 9.5/10
Les Miserables: What's it about? This epic is also set in the 1800's and follows Jean Viljean, a peasant who goes to jail for numerous years for stealing a loaf of bread. The film chronicles the years after his jail time, and the relationships between him and the suspecting Inspector Javert, as well as his adopted daughter Couzette. Oh yeah, and in case you've been living under a rock, it's a musical. Nat's thoughts: Oh lord. If there's any movie that I could use as an example of being completely misunderstood, and ignored of it's flaws, it would be this movie. I just hate it. It sucks. It's stupid. Nothing about the story makes sense at all, nevermind the fact that it's infinitesimal yet spans like, 30 years and takes up about 2 hours and 37 minutes of your life. Nevermind the fact that this film is set a full 35 years after the French Revolution, despite being about the French Revolution. I'm not kidding anybody here. You all love this film, and you think – no, you know how wrong I am. But those movie critics do agree with me. A reviewer from NPR said that in a just world, this film would send people running from the theater. You know, in disgust. One of the worst movies to be nominated for best picture. My Score: 5/10
Life of Pi: What's it about? This film revolves around the adventures of Pi Patel, stranded on a boat in the middle of the ocean. But he's not alone, no, he's got a feisty tiger to keep him company. That tiger's name is Richard Parker. Nat's thoughts: Now here's an epic movie about faith that doesn't shove it's message down your throat. The acting is great here, and the visuals are downright amazing. This is definitely a feel good crowd pleaser, it's not amazing, but certainly quality enough to earn a spot on this list of 9 nominees. My Score: 8.5/10
Lincoln: What's it about? Come on, guys. It's all in the title. Thomas Jefferson. Nat's thoughts: While I did say Django was my favorite, I feel like Lincoln is probably the best out of all these nominees, and certainly deserving of a win(it has a chance). The acting is downright incredible, and director Steven Spielberg does some of the best work he's done in a decade. And yes, that counts Tintin. The film is an action movie with words,("A drama", as some of my idiot friends might sneer and say), verbal disputes shredded out minute by minute, no thanks to sharp dialogue from legendary playwright Tony Kushner. My Score: 9.5/10
Silver Linings Playbook: What's it about? The film is about Pat Jr, a man recently released from a mental hospital, and the trials and tribulations of trying to make things right with his ex-wife, as well as trying to maintain a stable relationship with his friends and family. Nat's thoughts: Remember when I said that Django was my favorite nominee of the year? Yeah, well I lied. See, this and Django tie for my favorite nominee. They kinda just switch off every five minutes. Though Silver Linings has the distinct advantage of being seen by me three times, while Django only twice. I adore this movie. The writing is beautiful and strikingly funny, the acting performances are way, way amazing(Bradley Cooper in particular, not to mention Jennifer Lawrence), and it strikes an emotional core that only few movies this year have. Again, it's a total crowd pleaser, and if you liked The Fighter(same director), you will LOVE Silver Linings. My Score: 9.5/10
Zero Dark Thirty: What's it about? Takes place over the ten years it took to capture and(SPOILER)kill Osama Bin Laden. The story is told from the point of view of Maya, a young yet razor sharp CIA operative who spearheaded the mission to get the most wanted man on the planet. Nat's thoughts: This movie is certainly dense, but it's also brilliant. It's a movie for those that are fans of detail as opposed to just straight action, and this movie certainly does have a lot of detail. The filmmakers started working on the movie even before Bin Laden was killed. Jessica Chastain, who plays Maya in the film, is nothing short of genius. She says very little but emotes so much. A true actress. The film may be uber political, but boy can it get intense. A very intelligent movie, deserved of being ranked among the great political thrillers like All the President's Men and Avatar(just kidding). My Score: 9/10
A few Little Hawk staff members were asked to choose one movie for Best Picture if it were up to them. They chose:
Anes Kapo – Skyfall
Will Barker – The Master
Will Lubaroff – The Dark Knight Rises
Lilly Reitz – Skyfall
Mikiel Curtis – The Avengers
Mickey Hansche – Breaking Dawn Part 2
Jacob Potash – Skyfall
Annika Wasson – Pitch Perfect
Daniela Perret – 21 Jump Street
Ellen Carman – Pitch Perfect
Cassie Wassink – Lincoln
Mara Kostner – Skyfall
Oli Peters – Moonrise Kingdom
Gabe Basile – Cloud Atlas
Nat Alder – Killer Joe
Max Friedman – Silver Linings Playbook
Jason Arnold – Lincoln
Finally, the Hawk Talks podcast made an Oscar Special. Check it out below:
See the full list of nominees(and cast your own ballot)here: http://oscar.go.com/nominees
And for a little something extra: The trailer for Battleship, one of the worst reviewed movies of 2012.

The 85th Academy Awards air at 6 PM on ABC.