Volleyball Finishes Regular Season Strong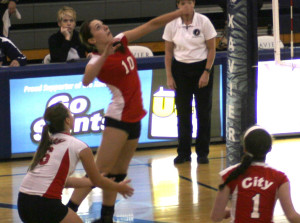 By Annika Wasson
The Little Hawks finished their regular season with another win last Tuesday night at Cedar Rapids Xavier. They swept the Saints winning 25-16, 25-13, 25-12.
Michaela Nelson '14 had ten kills, Abby Saehler '13 had nine kills, Rachel Rinehart '13 had eight kills, and Liz Hubing '13 had seven kills. Erin Muir '12 had 32 assists and nine digs, Laura Shepherd '12 had 12 digs and Caitlin Ward '12 had 11 digs. The Little Hawks also served well, having a 90.9 percent serving efficiency on the night, along with eight aces as a team.
"Overall we played well," head coach Craig Pitcher said, "We had consistent passes and sets, and we were able to hit tough."
The team has an overall record of 36-3, earning them the No. 2 ranking in the state. Now, they are preparing for their first regional game against the winner of the Burlington-Ottumwa match. The Little Hawks will play this match on Thursday, October 27, at City High.
Pitcher has high hopes for the tournament, saying the the team wants to "win it all."